Lou Solarez Receives Stanislaus County Mentor of the Year Award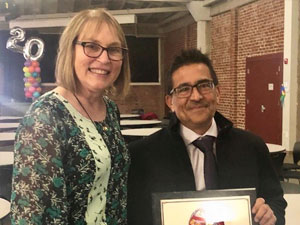 Lou Solarez, an Application Specialist III at CSA, has received the Stanislaus County Mentor of the Year award.
"I enjoy the experience of developing the mentor relationship and watching the progress of the students throughout the year," commented Lou who mentors young people in the community.
Lou has been mentoring students for four years and was rewarded for his work in helping change young lives. He's part of the county's Employee Mentor program. Established as a pilot program in 1998, it become a full-fledged program a year later. Through partnerships with several schools, it uses a team based approach to link employees with at-risk youth and young adults to help them identify, grow, and achieve their goals.
There are currently 95 county employees serving as mentors this school year. Lou is one of three CSA mentors in the program.
A few minutes can help change lives for students and mentors also get a lot back in return. "The mentor program makes a difference for students," explains Lou. "But as a mentor, I'm being touched too."
Ali Arshad honored as Stanislaus County Site Coordinator of the Year for 2018.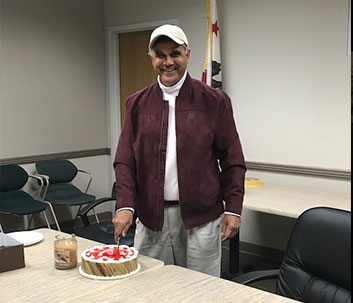 Ali Arshad has a Master's Degree in Public Administration (MPA) and Bachelor of Science degree (B.S) in Biology from California State University of Stanislaus. Ali also has several certificates in Pomology, Hazardous Waste Management, and customer service and leadership from prestigious institutes and universities such as Stanford, UC Berkeley, UC Davis and MIT. Additionally, he has earned awards and recognition in customer service, leadership, cultural award, and mentor of the year. Ali is also active with the Hazardous Waste Advisor Committee, Employee Appreciation Committee, Mentor Celebration Committee, and volunteers each year at the Earth Day Event for other good causes.
Ali Arshad has been working with the Stanislaus County Department of Environmental Resources for 26 years. He is currently a Hazardous Materials Specialist III that serves as an environmental regulator who enforces California Health & Safety codes which protects the people of Stanislaus County and the environment. Mr. Arshad is also an Almond grower and takes pride in County Farming Heritage.
I have worked as a city planner for the cities of Livingston, Ceres, Merced, Modesto, Modesto City schools and since 2013 with the Stanislaus County Planning and Community Development Department. I was hired as the Planning Division Manager responsible for overseeing the work of processing land use development applications for the County.