Miguel Galvez honored as Stanislaus County Mentor of the Year for 2017.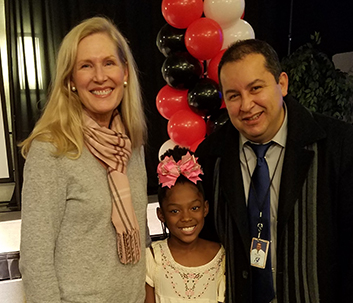 I have lived in Stanislaus County since 1967, when my family settled in the City of Riverbank. I attended Riverbank schools, Modesto Junior College and Cal State Stanislaus, receiving a Bachelor of Arts degree in Political Science, with a concentration in Public Administration from California State University, Stanislaus in 1987.
As a child, I worked in the agricultural fields picking boysenberries, strawberries, cucumbers, peaches, apricots, raked almonds and thinned peaches. While in high school, I worked under Youth Employment Program helping custodians clean classrooms. I also worked in a grocery store as a store clerk. During my years attending Junior College, I was a volunteer firefighter for the Riverbank Fire Protection District, even staffing the fire station when the paid firefighters were on vacation.
My professional experience in the field of land use planning began in 1986 when I volunteered to intern for the City of Riverbank. I was appointed to the City of Riverbank Planning Commission from 1985-1989, the youngest Planning Commissioner to have served. I also served on the Stanislaus Area Association of Governments' (now known as StanCOG) Citizens Advisory Commission in the late 1980's.
I have worked as a city planner for the cities of Livingston, Ceres, Merced, Modesto, Modesto City schools and since 2013 with the Stanislaus County Planning and Community Development Department. I was hired as the Planning Division Manager responsible for overseeing the work of processing land use development applications for the County.
Some highlights of my work experience include initiating and coordinating the Neighbors United neighborhood clean-up and fix-up efforts in several neighborhoods around Modesto. Volunteers would come to clean yards, paint and fix things on properties occupied by the elderly and disabled. We would coordinate the work for about 500 volunteers. I was a catalyst for facilitating the development of several low-income housing developments in Modesto (Ashwood Village, WoodStone Village, Gateway Village). While with Modesto City Schools, I was directly involved in the development of Gregori High School and modernization of Thomas Downey High School. I have processed countless land use development applications helping people and businesses fulfill their personal goals and dreams.
During part of my tenure at the City of Modesto, I was involved in a mentorship program, where the City paid college students to work and learn the business of public service at the local level. I mentored a total of five students for a year each. I taught interpersonal skills, critical thinking, life skills and how to make a difference in the places that one work, live and plays. My constant theme was "no one cares how much you know, until they know how much you care."
My wife is an elementary teacher and I have helped in her classroom many times. I have come to learn that each of us can benefit from someone who can spend time with us, to listen, to talk, to read, to challenge and to just be there, present in the moment. Life is short, and our time to share of ourselves is lessened by work, illnesses, and other obligations. Being a mentor is like having a friend that guides you to see the richness that is in you, that you can not yet see in yourself. Being a mentor does not teach others what to think, but how to think and why in a constructive manner. I have been blessed by many people during my life, it is my turn to pay it forward; it does not cost very much, just a little of time.
Thank you
Vinal Chand honored as Site Coordinator of the Year for 2017.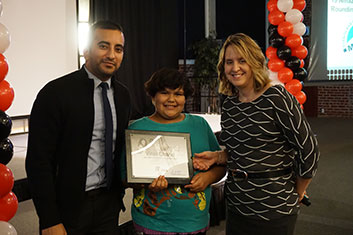 I have the pleasure of mentoring a talented young lady who is a fifth grader at Shackelford Elementary school. During the last couple of years, I've really gotten to know her and have learned a great deal from her. She is always enthusiastic, fun and full of energy and we enjoy our time together during lunch each week. It's heartwarming to see her excited as I walk up to the school site on mentoring days. That in itself makes it all worth it for me. I've shared this experience with my coworkers and a handful of them have also joined the mentoring program. Their experience has been very positive as well. For those considering to be a mentor, I would highly encourage them to do so. It is a great program and very rewarding for both, the mentor and the mentee. The school faculty are also wonderful to work with and appreciate the time spent with the students. I would like to thank the team for nominating me for the Site Coordinator of the Year Award, I am truly honored. I look forward to continuing to serve as a mentor and being part of this great mentoring program!