Tamara L. Thomas honored as Stanislaus County Mentor of the Year for 2015.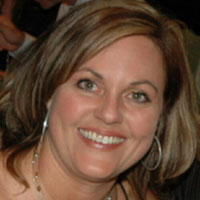 Tamara Thomas, has 27 years of professional county administration and child support experience. She has a Bachelor's of Science Degree in Organizational Behavior from the University of San Francisco. Ms. Thomas is a certified facilitator for Vital Smarts, teaching Crucial Conversations and is a past Certified Master Facilitator for Achieve Global. She currently teaches Effective Communication and Managing Employee Performance for Stanislaus County's LearningInstitute. She has experience in the areas of child support enforcement, management, leadership, and process improvement. She has been the Director for Stanislaus County Department of Child Support Services for the past five years, and fourteen years as the Assistant Director. Ms. Thomas is a frequent presenter and trainer for the California Child Support Directors Association (CSDA), and is the current Vice President of the Western Interstate Child Support Association (WICSEC). Based upon her dedication to the vision and mission of the child support program and her ability to inspire and motivate her staff she was the recipient of the 2015 National Child Support Enforcement Association's (NCSEA) Outstanding Leadership Award. She believes strongly in delivering excellent customer service and making a positive difference in the lives of the families we serve. She has recently accepted an assignment as Interim Director of Human Resources in the Chief Executive Office in Stanislaus County. Ms. Thomas and her husband Michael have four children and one grandchild. In her spare time she serves as a Parks and Recreation Commissioner for her home town and enjoys running, playing the piano, and watching sporting events.
Kathy Davis honored as Site Coordinator of the Year for 2015.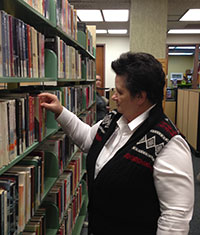 I began working for the Stanislaus County Library in 1987as an Administrative Clerk. During my 29 years here I have worked both the Oakdale and Keyes Branches and currently am the Circulation Department Supervisor for the Modesto Library. I grew up in Modesto where I raised my three daughters. My passion for mentoring children came from volunteering in their classrooms when they were young. It was there I recognized the need for children to have someone to read with them and take an interest in their lives. In 2005 we purchased an Almond Ranch in Hughson where all three of my daughters teach. Being able to volunteer in their classrooms brings me great joy. I believe it is important to build a child's self esteem through encouragement as they learn. Having an open heart and a caring word helps a child tremendously through their educational journey.
The highlight of my life is my beautiful granddaughters. The oldest is three and her baby sister just turned one. I love watching them grow and learn new skills every day.
I have been mentoring with the Stanislaus Count Mentoring program for 16 years and have enjoyed every minute of it. I have had the pleasure of mentoring over 16 children and watching reading come alive in their daily lives. The time spent with these children is invigorating and rewarding. I feel very lucky to be able to take part in their lifelong learning.