Jeremy Howell honored as Stanislaus County Mentor of the Year for 2010.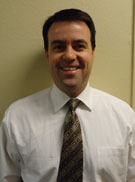 I have been married for 16 years and my wife and I are the proud parents of two boys, ages 12 and 3. Both boys keep our hearts full and our days very busy.
I was born and raised in Modesto and am a proud graduate of Stockard Coffee Elementary, Somerset Junior and Beyer High schools. After leaving Stanislaus County to attend college, I moved back in 2004 with my wife and children to re-establish roots and provide the happy upbringing I enjoyed for my two sons. I have been a Stanislaus County employee for three years.
When I was first approached about mentoring, I was eager to volunteer more out of a sense of responsibility to our community than anything else. In thinking about my assignment as a mentor at John Muir Elementary I did reminisce about the teachers I had over the years and how motivating their words of instruction were to me. It was not until I heard of our students' progress from their teachers and reading specialists that I became devoted to the mentoring program and not simply spending time as a volunteer. Three of us in the Department shared one student who won the annual poster contest and gave a very complimentary quote about the mentoring program and his mentors. We still argue about who he was referring to! That winning poster will always hang in my office with pride.
To watch these students develop, improve and gain confidence is a wonderful experience that I would wish for everyone. To those who are not involved in the program, I promise you an unforgettable, extremely fulfilling experience. What are you waiting for?!?
Paris Scott honored as Site Coordinator of 2010.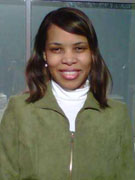 I was born and raised in the Bay Area. I was taught at an early age that it is better to give than receive. I didn't know what that really meant because I didn't have anything to give. But, I did have time. I began mentoring when I was in elementary. One of my neighbors that lived around the corner was from Greece and needed help with mathematics and reading. His mother asked if I would help her son and I did it cheerfully . When another neighbor, who was Italian, heard about it asked me if I would do the same for her son. It was fun because they were my friends and I got paid sometimes monetarily, with candy or with baked goodies and they wouldn't accept no for an answer.
When I entered into junior high, they had a mentor program in which you could go back to your previous elementary school and tutor twice per week. I signed up immediately! But, there were a few years that I didn't mentor, high school (smile). College was a different story, I was approached by my English Professor and he asked if I would like to be a tutor and of course, I said yes!
In closing, I am very humbled and blessed that I was chosen as Site Coordinator of the Year. I was so surprised because I gladly give up my lunch time to be a positive influence in a young childs life. I am so glad that Stanislaus County has a mentor program that gives back to the community and touches so many young children to help them become better students and helps mold them to becoming more productive adults. I hope in the coming years, many more employees will volunteer to be mentors to see how gratifying this experience is.