Barbara Linthicum honored as Stanislaus County Mentor of the Year for 2006.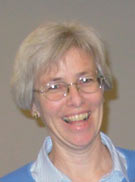 The 8th Annual Stanislaus County Employee Mentor Recognition Dinner was held on January 18th at the Salida Library - Community Room in Salida. The room was overflowing with love and excitement as students, teachers, parents and mentors gathered to celebrate eight years and over 11,150 total hours of mentoring by Stanislaus County employees.
Barbara has been an employee of Stanislaus County since 1980. She worked at Health Services Agency (formerly Scenic General Hospital) and the Community Services Agency (formerly Department of Social Services) before coming to the Auditor-Controller's Office in 1990.
Barbara manages the General Ledger Division and supervises a staff of five. Barbara is well known for her expertise and knowledge of Governmental Accounting as well as legal budgetary requirements as mandated in State Code.
Barbara started mentoring at Everett Elementary. The next year she joined with her co-mentor, Diane Sanders, and mentored at Fairvew School for 5 years before moving to John Muir School for the 2006-2007 school year.
When asked what she likes most about being a mentor, Barbara had this to say: "I really enjoy sharing my love of reading with children and seeing them improve over the course of the school year."
Lynda Perino is honored as Site Coordinator of the Year for 2006.

The Site Coordinator is a key department level position and one of the primary reasons our employee mentor program has had the winning sustainability these first 8 years! Our site coordinators work diligently to connect with their assigned employee groups - share new mentor information - listen to employee mentor concerns and suggestions for improvement - and overall, act as our significant program cheerleaders!
There is no better cheerleader, coach and mentor inspirer than Lynda Perino. Lynda jumped into her site coordinator role four plus years ago and has been making considerable difference in this program ever since.
Lynda has been a Public Health Nurse (PHN) with Stanislaus County for over 9 years and a registered nurse for almost 27 years. Lynda sees her mentoring participation as an "awesome experience". She has enjoyed the three children that she has mentored over these past few years stating that "it is so exciting to see their reading improve throughout the year and to actually see and hear their vocabulary change." Lynda adds that she looks forward to Mondays because "Oswaldo (her protégé) has never missed school on any of his Monday mentor days."
Check out the special note from one of Lynda's protégé admirers! This is too special!